Corporate Mission Statement
Our vision, mission and values
What do we do?
Expocloud is an innovative software producer that wants to revolutionize live-communication with that start-up mentality. Since our founding in November 2018 we are already market leader for Event-Resource-Management (ERM) platform, that is how we are showing new ways to the industry.

Our goal is to support the event and trade fair construction industry in digtal transformation with our guiding principle "Live Marketing Automation". We want to do that by bringing together live-communication and by that creating Hybride Events. Doing this, our focus is on digitization and automation in event marketing.

For a long time now, event marketing has not just strictly been analogous. That is why it is time to take on digital challenges and to not longer push them away - because with new instruments come new possibilities. We want to help you by discovering potential, that has not been discovered yet, and showing you how to implementate it in a way that is maximizing your profit.
The Management
Vita Dr. Christian Coppeneur-Gülz
After studying business administration in Vallendar, Rome and Los Angeles, Christian Coppeneur-Gülz earned his doctorate in business informatics and information management at the WHU - Otto Beisheim School of Management. With a goal of supporting the event and trade fair construction industry with digital transformation, in 2018 he founded expocloud GmbH. With a focus on digitization and automation in live-communication he developed the leading Event-Resource-Management (ERM) platform "Expocloud". Whether multi-platform-system or automated vistor measurement at events, his pioneering spirit is revolutionizing the industry. Dr. Christian Coppeneur-Gülz is a sought-after keynote speaker and reguarly gives lectures on digital transformation of live-communication.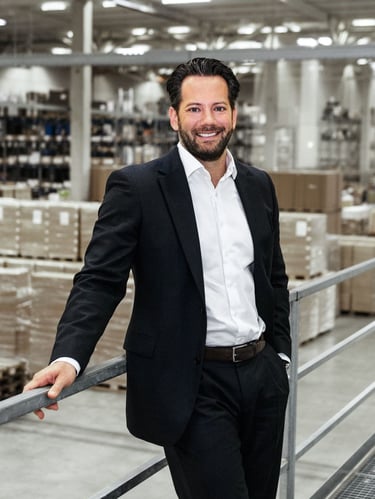 What do we want and how do we get it?

Vision
In a world that becomes more and more digital everyday, event marketing is gaining more effectivity. Our goal is to make event marketing as easy, fast, efficient and measureable as online marketing. Between event and online marketing the boarders are flowing and disappearing and a combination of both disciplines enables new synergetic effects.

Mission
We make the digital planning, execution and analysis of event marketing actions possible and doing that event marketing becomes fast, efficient, scalable and measureable. By using digital technologies and processes we make the tasks of event marketing easier and automate them. Doing so, we connect the industry both vertically and horizontally, to automate processes and boost the synergy potential. We connect event and online marketing to increase your success.
What do we believe in?
To not only seek for but also achieve our vision of the future, we need common principles, that will always remind us, of what we believe in and of what we want to achieve.
Our Values
A company will only perform well, if the employees behind it are working not only well and with pleasure, but if there is a good atmosphere to work in. That is why we have a value culture that accomponies us in our everyday working life and that gives us a foundation that we can move on as a company.
Communication and Leadership
Our values are the foundation of our leadership and can be found in every communication. We communicate directly, but we never neglect respect, fairness and justice.
Honesty and Willingness To Help
In our community we connect honesty and willingsness to help. Because only if we are honest to each other, we can help and support one another.
Fun and Reliability
We think that fun is fuel for excellent performance. Not only our projects should be fun, but also inbetween there is time for recreation. That requires that every task is done reliably, so that our stakeholders feel success and joy aswell.
Dynamics and Innovation
Dynamics and Innovation are key to an always changing world. Only if we are willing to take on changes, we can master the challenges, that are coming towards us. Thereby dynamics means innovation and courage but not levity.
Freedom and Responsibility
Our employees embrace the freedom to make their own decisions. But in return we anticipate, that everybody takes on responsibility for his own doings.
Performance and Appreciation
We are living in a society of excellence and performance. We take expertise, quality and diligence for granted, but encounter everybody, who surpasses our standards with great respect.
Certainty and Profitability
In our company every stakeholder is granted certainty: a safe job, a safe community, a safe project. But to make that possible, we need to work profitable. Mutual loyalty is what we think is the foundation for all that.
Health and Ecological Awareness
We believe that health, balance and soulfulness appertain to a well-adjusted "me". From our perspective, that requires unison with our ecological and social environment. Our employees' physical and mental health is important for us. That is why we aspire a sustainable interactions with our fellow human beings as well as with our natural resources.