Event Resource Management Software
Excellent, innovative and secure

From article management with predicted availability for advertising media or exhibition systems and the intuitive ordering system to user and event management, to analyses of visitor behaviour, as with Google Analytics, as well as sales distribution and quality management. Through your individual and modular composition of the individual products, you determine the speed, scalability and agility in your live communication. ExpoCloud is process-optimised 360-degree event resource management.
Agile working in live communication
Exhibitor
Event agencies
Exhibition stand builder
Rental equipment provider
Event logistician
Manage event resources easily
With Contract Management, you manage all access and permissions of your ExpoCloud as individually as you like. With User Management, you define internal users or your live communication business partners and assign the necessary permissions.
In the portal management you can integrate your logo and define the colours of your platform according to your corporate design.
If all users and stakeholders are created as visible contacts, you will speed up project communication immensely.
Contract Management
Exibitor
Event agencies
Exhibition stand builder
Rental equipment provider
Caterer
Event logistician
Advertising dealers
Ordering made easy, clear and fast
Here you can find all articles of Rental Furniture and Exhibition System Partners of ExpoCloud. A steadily growing portfolio for tailor-made implementation and furnishing of trade fair stands. In the standard ordering process, the inventory of all resources or the portfolio of any assigned rental equipment provider, caterer or promotional products dealer can be ordered. Whether as an exhibitor, agency or trade fair organizer, the workflow is perfectly coordinated and thanks to our clear procedures you always have an overview of the status of all live marketing orders. Over 50,000 orders are placed in ExpoCloud today. From advertising material, give-aways, flyers and brochures to exhibits, trade fair sets and entire exhibition stands.
Resources
Exhibitors
Event agencies
Stand builders
Rental equipment providers
Caterer
Event logistic companies
Promotional products dealers
Studio - 3D Standdesigner
With ExpoCloud Studio a booth can be visualized and ordered easily and intuitively, planned directly in 3D.T

he entire portfolio of rental furniture and exhibition systems of all ExpoCloud providers is represented and ready for use.

This guarantees independence and freedom for equipment and scope of the outside appearance.

Own graphics, whether stored as a resource in ExpoCloud or locally from your desktop can be integrated.
Orders with low price logistics
In the standard order process, each user is provided with the resources that have been shared or allocated to them. Whether owned or rental equipment, catering, event technology, advertising materials, flyers, brochures or entire exhibition stands and modular exhibition systems. In the ExpoCloud order workflow, the cheapest logistics are automatically offered first and, if speed is an issue at times, express surcharges are also indicated. ExpoCloud customers benefit from the bundled volume of use of all users.
Operations always at call
In ExpoCloud Shop all processes are available on demand. Whether online orders, job orders, delivery notes, invoices or credit notes. The search and sorting by date, status, rating or even orderer is, especially with a large number of orders, helpful.
Exhibition and event equipment at a glance
With ExpoCloud Resources all inventoried event equipment is at your disposal. Extensive product descriptions and information on size, weight, packaging units, as well as PDF documents, product images, films and even CAD data can be displayed. From advertising materials and giveaways to print products and roll-ups to entire trade fair sets - the entire inventory with real-time inventory and forecasted future availability on demand at any time. Rental equipment and catering are also available as resources. Exhibitors, event agencies and booth builders share all necessary and project related information. As a supplier of rental equipment, caterers or promotional products dealers, you can use ExpoCloud to offer your products to more than 5,000 active users as resources and to generate new orders.
Resources
Exhibitors
Event agencies
Stand builders
Rental equipment providers
Caterer
Event logistics companies
Promotional products distributors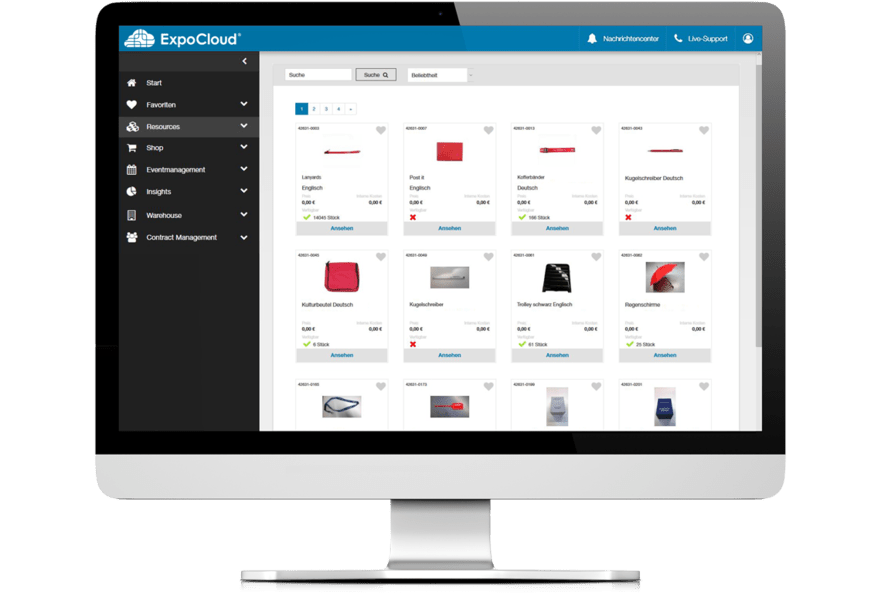 Advertising material - always in stock
With ExpoCloud, the current stock of all advertising media and give-aways as well as marketing material can be viewed in real time any time. The forecasted future demand of items and the automated message when an article falls below the defined minimum amount ensure security in event resource management. In ExpoCloud, promotional products dealers, exhibitors and agencies work together effectively and in a streamlined way.
Rental equipment - maximum choice
The ExpoCloud platform unites exhibitors, event agencies and booth builders with rental equipment providers. When designing and planning a trade fair stand, all those involved rely on the largest selection of rental furniture, accessories and much more. No limits in choice and freedom in conception of the booth. ExpoCloud is the ideal place for rental companies to present its own portfolio to over 5,000 active users.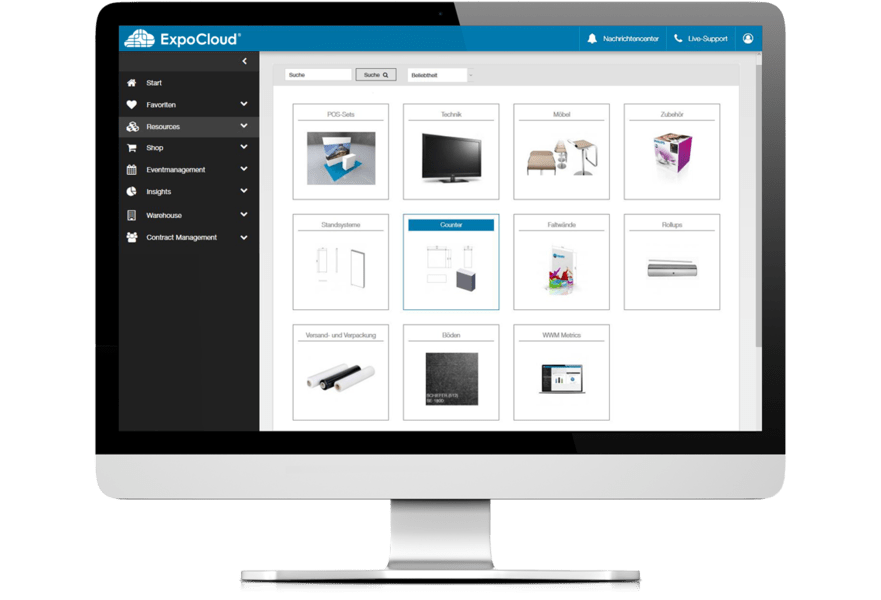 Structured event planning
ExpoCloud event management provides an overview of all past and future events, such as trade fairs, congresses, seminars and meetings. Event-specific internal and external contact persons of the individual events as well as the date and stand size can be filed. Event Management is the easy and structured overview of all live communication measures. Event Management will be extended with a Participant Management module in 2020 and will guide the entire conversion and sign-up process to on-site appointments.
Event-Management
Exhibitors
Event agencies
Stand builders
Event logistic companies
Analyze your event performance
With Event Metrics you get a data based record the performance of your events at the touch of a button. A small sensor filled with WiFi technology is placed on the exhibition stand and captures the behavior of visitors, comparable to Google Analytics in online marketing.
Number of trade fair and booth visitors
Average visit duration
Proportion of returning visitors
Get all this data in real-time and evaluate the success of your live communication efforts KPI-based. For the strategic orientation of your live marketing, Event Metrics offers you a valid and reliable decision-making basis.