Successful trade fair appearance
of the Bosal Group
The trade fair appearance
With our long-standing client, the Bosal Group, we have already developed and realised several trade fair presentations. Through constant further development of the trade fair stands, the Bosal Group has been able to successfully present itself with new stand and design concepts every year. The Bosal Group decided to go to market with a new orientation of its corporate design. The challenge: to make the desired changes in a short time and to meet the tightly scheduled trade fair schedule!
Special eye catchers
To put the focus on the new design of the Bosal Group, the side walls were backlit with the help of the modular frame system VLB124. A special eye-catcher was created with the B62 system: A 5-metre-high tower with an integrated cabin. This contained a 55 inch flat screen with 4K resolution for the perfect display of company presentations.
Effect on the trade fair visitors
The 5-metre-high tower in "Bosal red" alone quickly attracted attention to the stand. The use of backlit side walls attracted further attention. The presentation of "products to touch" quickly aroused the trade fair visitors' curiosity. The exhibits were presented through displays individually produced from wood and painted white, so that interested parties could take a closer look at the products.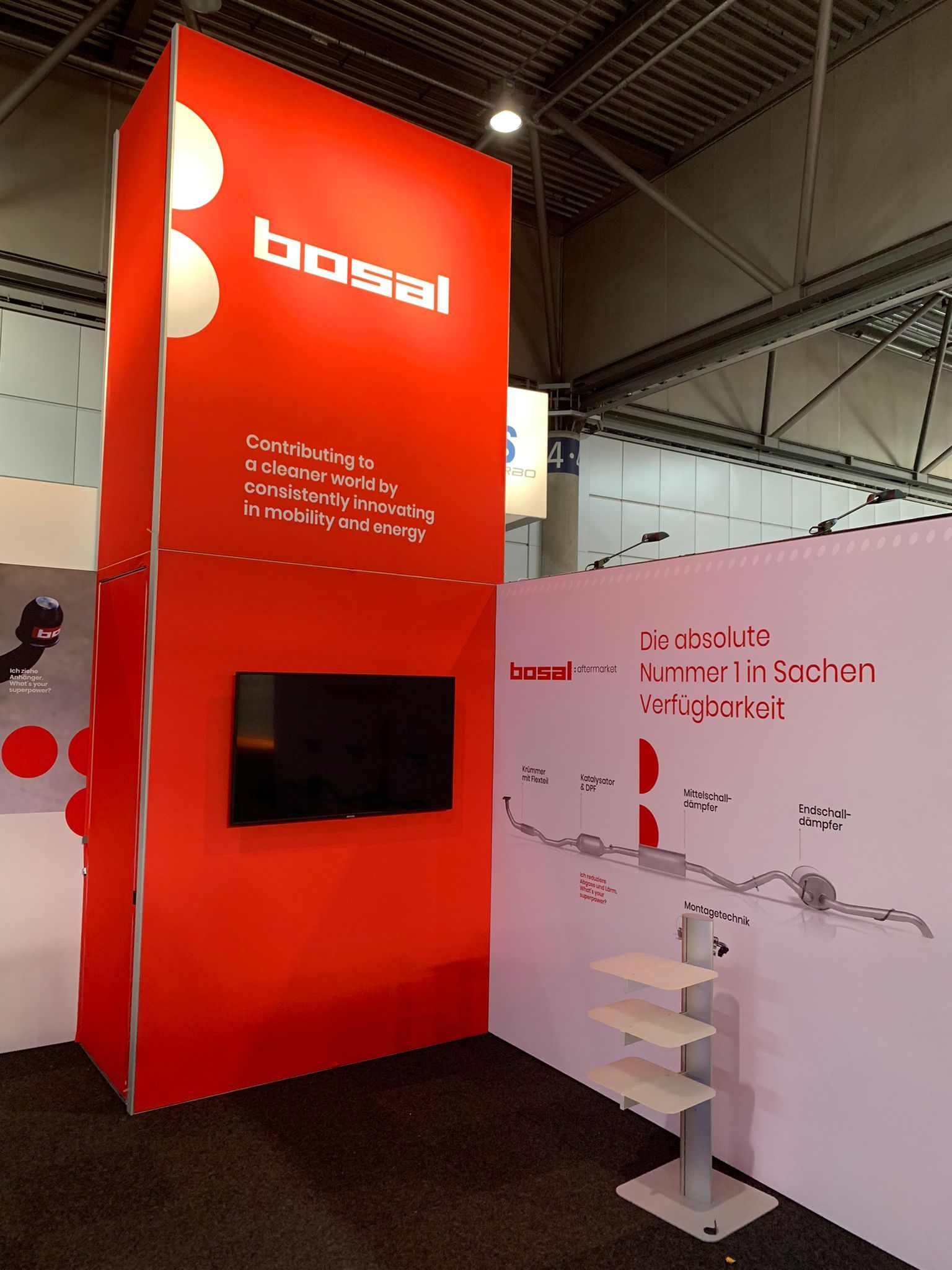 This is how we mastered the challenge
It was important to integrate and present the new corporate design in all trade fair presentations. Thanks to the modular system, we were able to react quickly and implement the wishes. A big advantage of the modular system is the flexibility and adaptation to the local conditions. It doesn't matter whether there is a lot of space or not. With the help of the myWWM portal, the Bosal Group is flexible and can call up its exhibition stands quickly and easily, ensuring timely delivery and quick set-up at the exhibition venue. By choosing rented dark carpet tiles, the highlights of the Bosal trade fair stand were particularly highlighted. Here, too, the issue of sustainability played a particularly important role.
We have been working successfully with the trade fair professionals from WWM for many years and are very satisfied and successful.
Area Sales Manager AM D - A - CH
BOSAL's mission is to drive innovation in global mobility and energy by developing and manufacturing technology solutions with agility in its four market segments: Powertrain, Chassis, Energy and Microgrid. The BOSAL Group plays an important role in shaping a cleaner future. From automotive to energy solutions, BOSAL Group products are recognised and appreciated by customers worldwide.