Exhibition stand for Kaulard at the Opti in Munich
The fair project
At the Kaulard booth, the new Carin brand is presented in a Mediterranean atmosphere and invites visitors to linger. Vespas and large olive trees are an eye-catcher and arouse curiosity from a distance. The high back walls, which are disguised as a house wall, round off the booth design.

The different eyewear models of the Carin brand are presented in and on individual display stands. At a standing table in the background, consultations can be held and the models can be viewed more closely.
Mediterranean atmosphere at the booth
Large olive trees, Vespas and sand looking carpet give the feeling of being in a Mediterranean place. Curiosity is aroused by high back walls. The LED lights illuminate the booth and emphasize the open booth design.
Various counters and stands, which were placed at the edge or in the middle of the booth for the product presentation of the eyewear, extend the time visitors spend at the trade fair.
The individual design of the stand despite standardized exhibition systems stands out from the crowd and can be adapted for the next trade fair appearances to stand space and other requirements without incurring additional costs.
Personal thoughts about the Kaulard booth
It's always nice to see the individual development stages of a trade fair stand: From the initial idea to the finished stand at the trade fair. The graphic design was done by our colleague Marius Palm - a service to our customers that we are happy to offer and is particularly fun. The communication has always worked wonderfully, so that this project has given us a lot of pleasure in every single phase.
The booth at the OPTI trade fair in Munich was a complete success. An individual and eye-catching booth with a standard system could not have been better. Development, implementation, construction and support was absolutely great and always with a good feeling.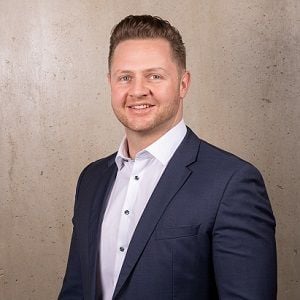 Head of Marketing CARIN Brillen/Optik Kaulard